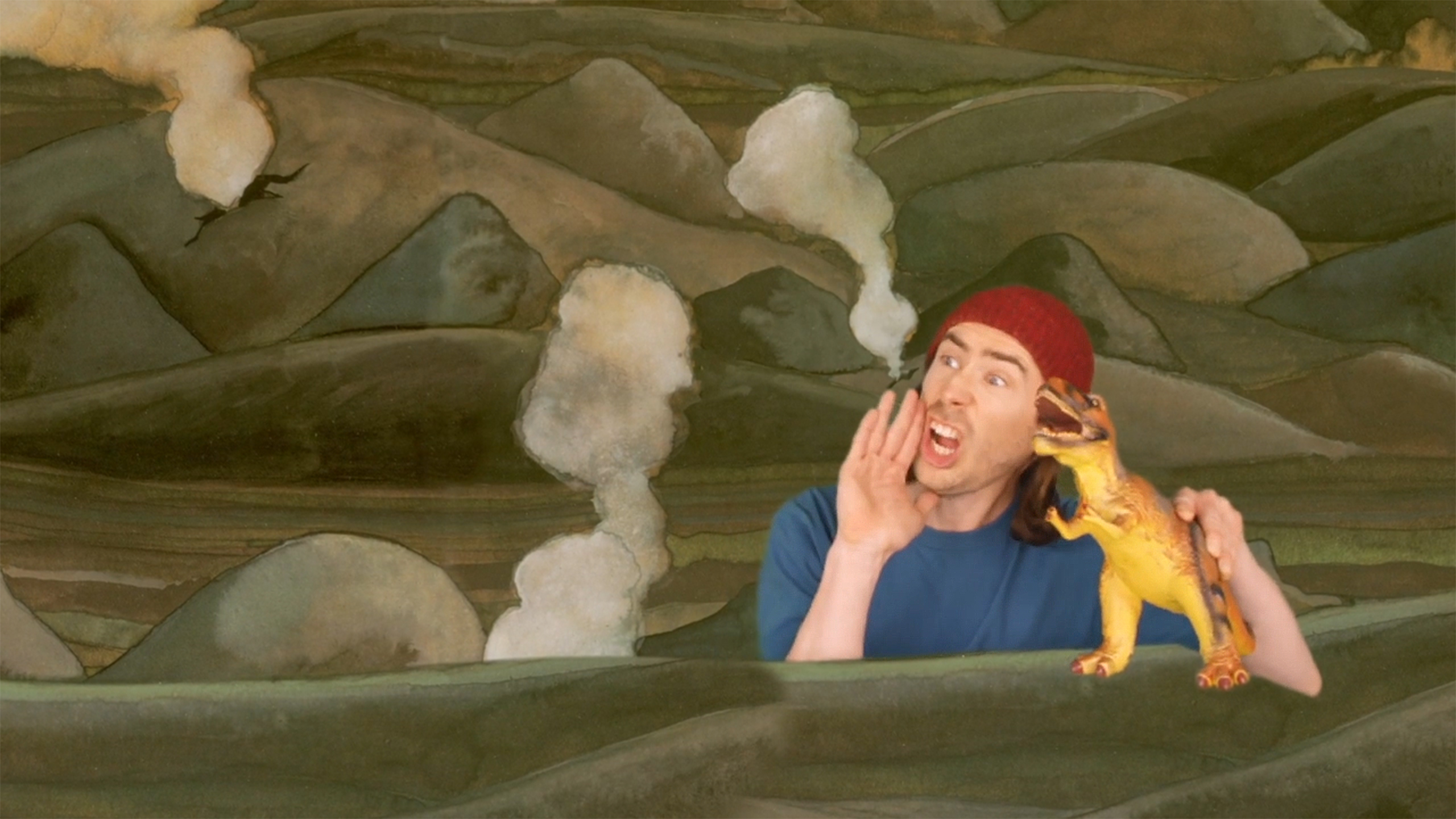 Dinosaurs and all that Rubbish: New Online Theatre Commission
This new commission will bring to life an environmental message for kids and based on a much-loved book.
Author: Hakan Silahsizoglu
The environment is one of the biggest issues facing us today. But how do we engage young children with this subject in a way that doesn't feel overwhelming and makes them feel empowered to act? Back in 1972, Michael Foreman wrote a much-loved book that did just that and is more relevant today than ever: Dinosaurs and All That Rubbish.
We're delighted to have commissioned the brilliant Roustabout to produce an online theatre show based on the book, which will be released free on YouTube from Wednesday 7 April. We want as many children as possible to be able to discover this wonderful story, brought to exciting life with a mix of animation and live theatre, and its message that will get them thinking… and acting!
The production is in three parts, the first launching on Wednesday 7 April at 6pm on YouTube. The next two will launch on Thursday 8 April and Friday 9 April at 6pm too. So why not snuggle up after tea and enjoy some great children's theatre from the comfort of your own home, for free!
You can watch all the episodes available below, or check out the trailer if you'd like a taster first!
Episode 1
A man builds an amazing rocket to reach the stars, but at the same time ruins the planet....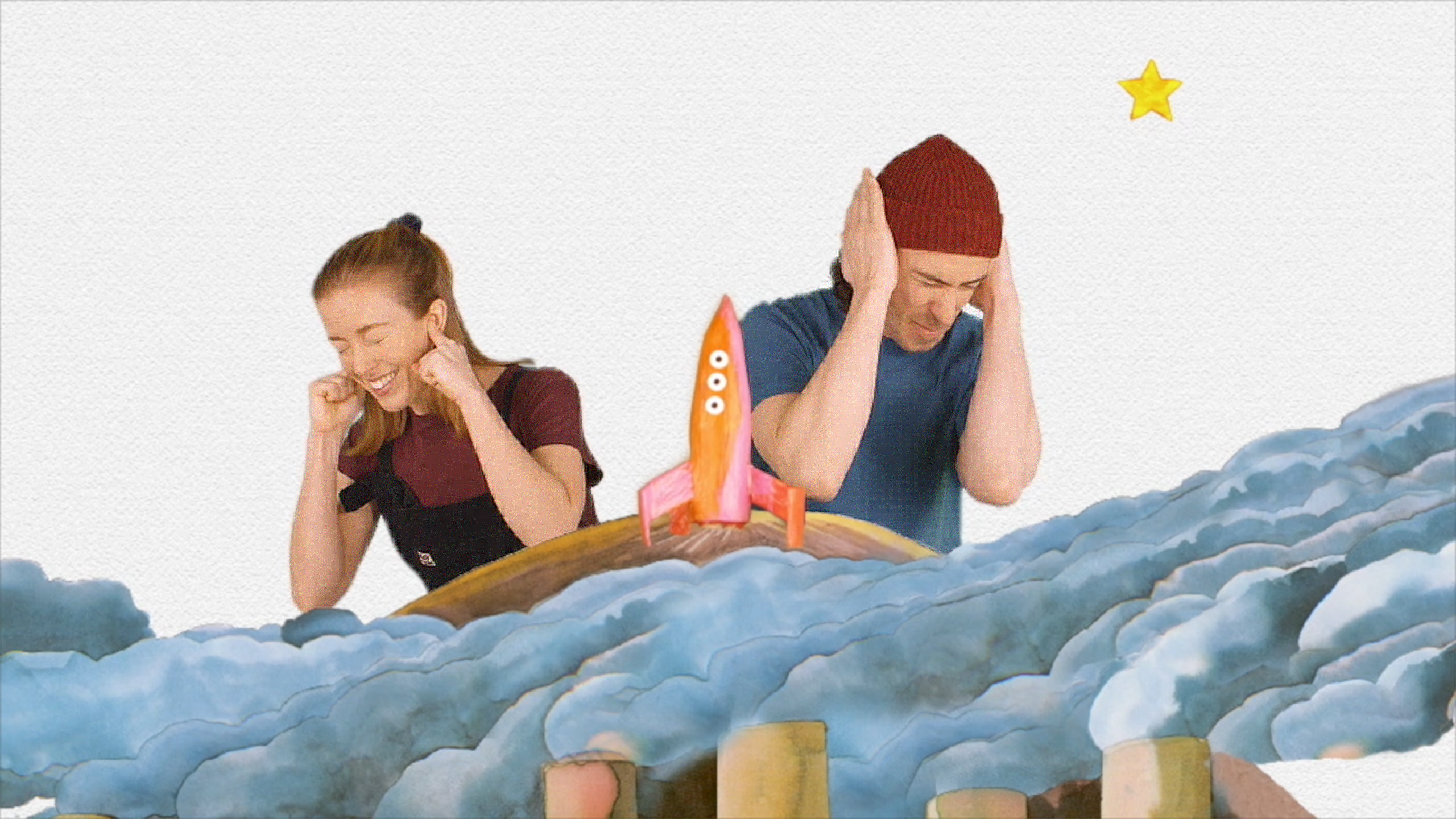 Episode 2
The dinosaurs awake from their long sleep, and make this planet a paradise again.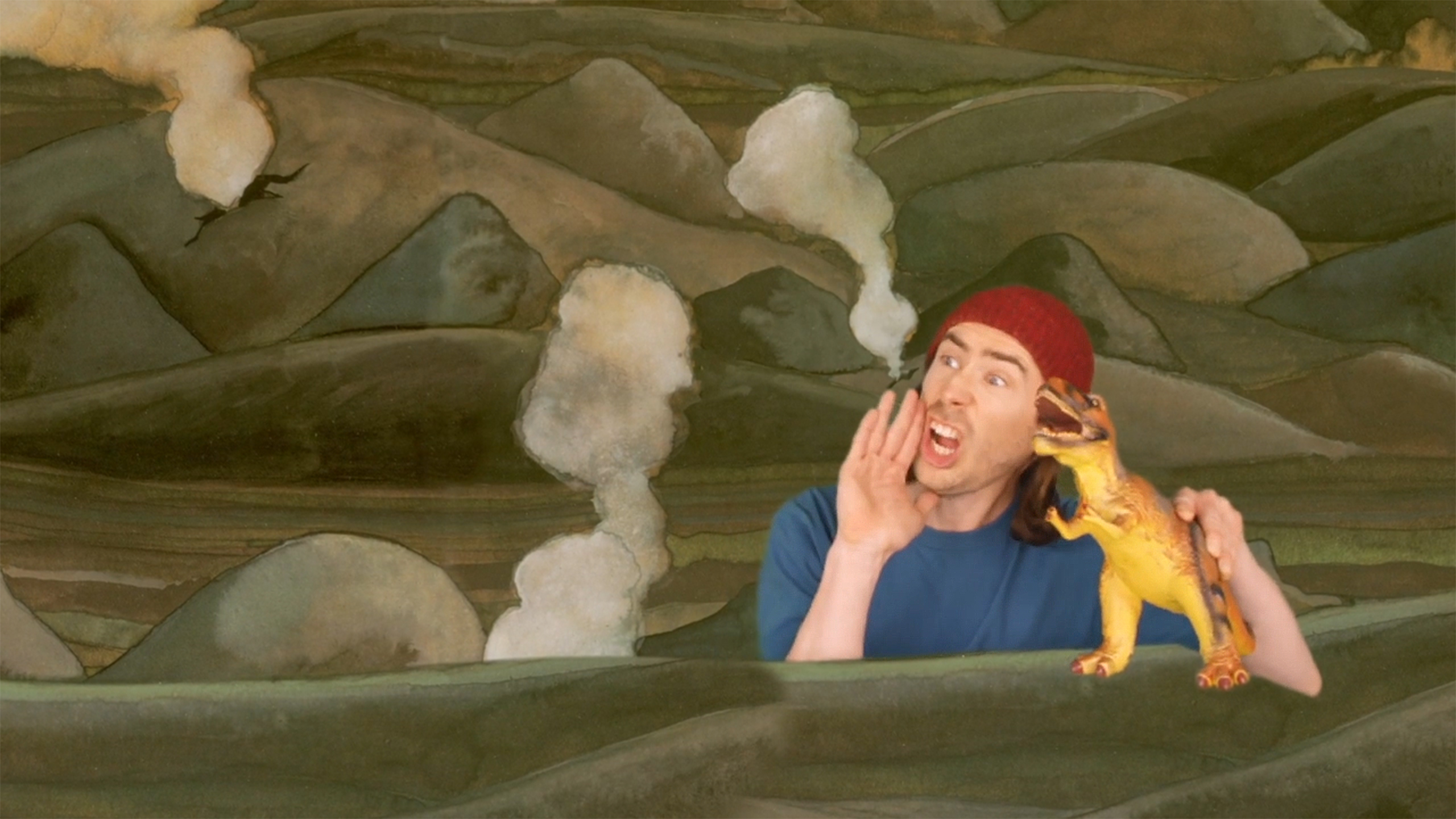 Episode 3
The man returns home at last. Can the dinosaurs teach him not to ruin the planet again?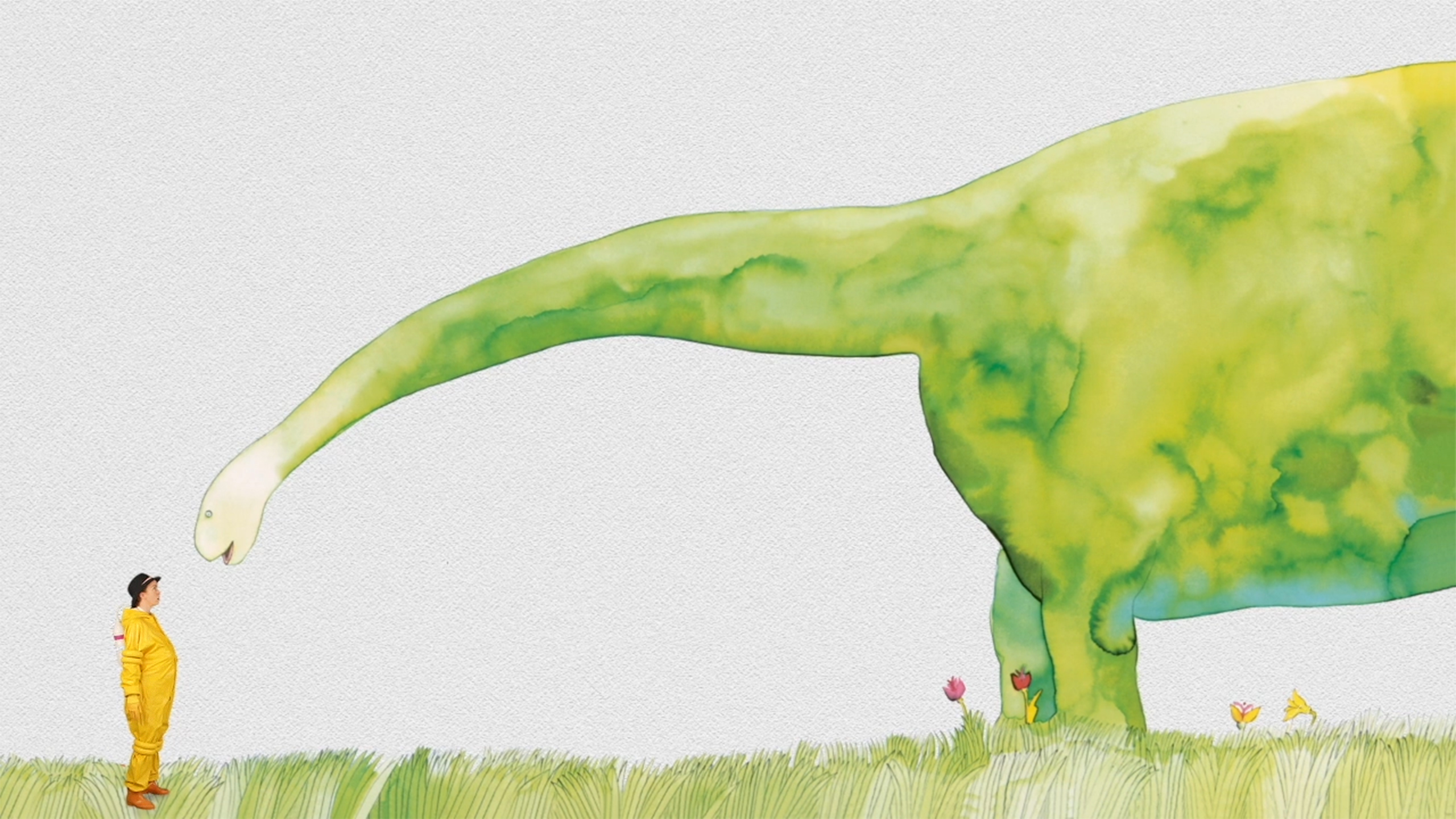 When I wrote, and illustrated, Dinosaurs and All That Rubbish in 1972, it was because of the growing threat to the environment. I never imagined the book would be even more relevant fifty years later, and I am delighted that Toby Hulse and Roustabout are bringing it to a wider audience.'
Michael Foreman
So, what's it all about?
One man's passionate dream to reach the stars leaves the world in ruins. Can the dinosaurs sleeping deep under its surface wake and save Planet Earth?
Michael Foreman's classic picture book about space travel, dinosaurs, and ecological balance gets a thrilling new lease of life in this free online theatre production for young children and their families. Commissioned by Watermans, adapted by Roustabout (Luna, The Great Big Story Mix Up) and performed by Robin Hemmings (Oi, Frog; Luna; One Small Step) and Shaelee Rooke (Luna; One Small Step; This is Where We Live), this three part series is a glorious mix of theatre and animation with song, puppetry, and digital wizardry, set amongst the book's beautiful original illustrations. Featuring an important environmental message, Dinosaurs and All That Rubbish is a highly inventive and charmingly funny theatrical adaptation and a perfect online treat for all ages.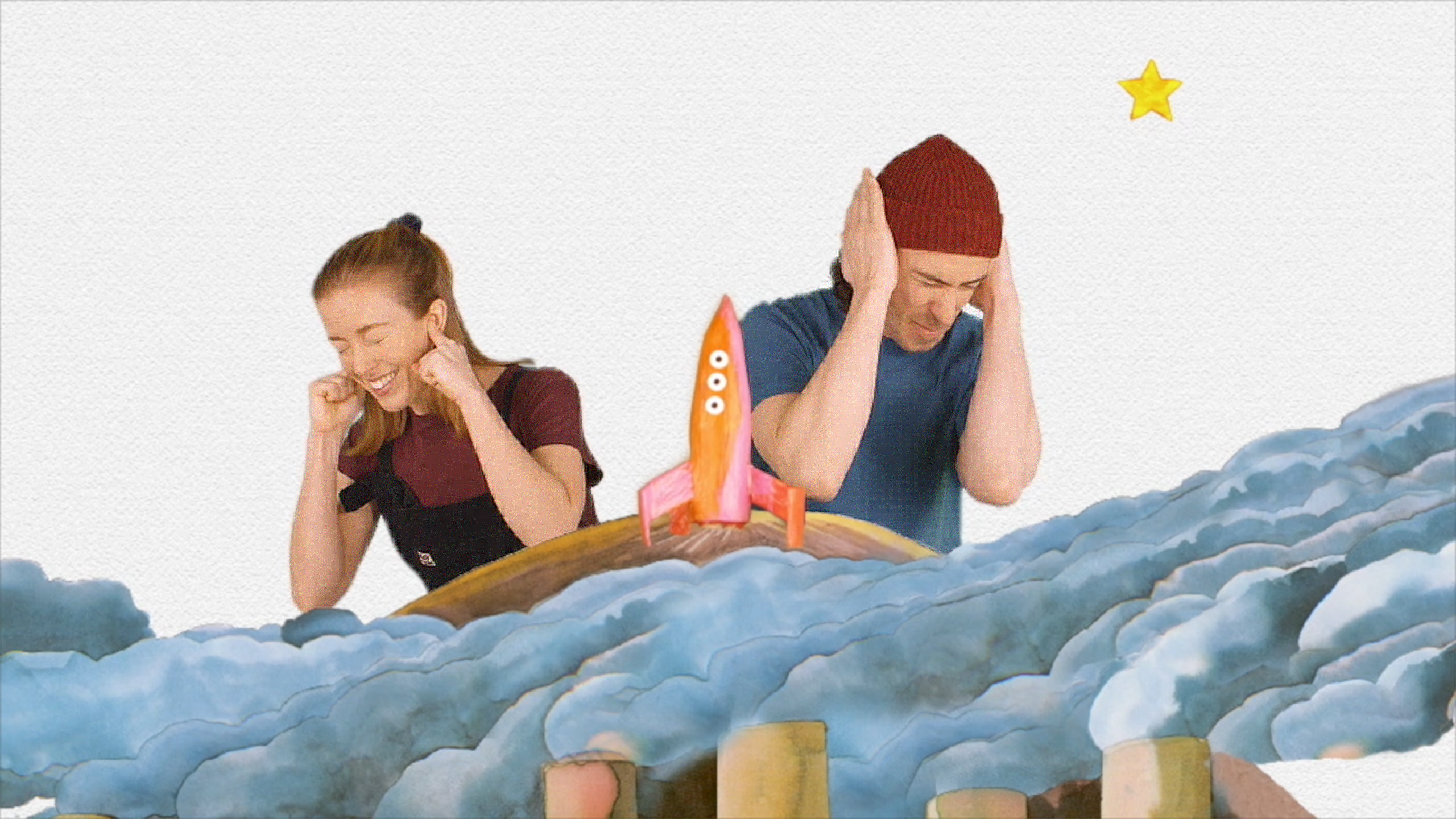 Since the first lockdown, Roustabout has been pioneering new ways to tell stories online, that are every bit as theatrical as a traditional production. I have loved this book since I was young, read it to my own children, and shared it with many pupils in schools. I am thrilled that, with the support of Watermans, we are able to share this wonderful tale in a whole new way with families across the world.
Toby Hulse, Director
About Roustabout Theatre
Roustabout is a Bristol-based family theatre company. Writer/director Toby Hulse has worked with Bristol Old Vic, The Old Rep, Pickled Image, Tobacco Factory Theatres, Travelling Light, the egg and the Unicorn Theatre. Toby is an expert when it comes to making work for young audiences, as seen in his productions of The Lost World and War Game (Bristol Old Vic), his adaptation of Around the World in Eighty Days (Bristol Old Vic), and his international touring production of One Small Step (Oxford Playhouse), which starred Roustabout's Shaelee Rooke & Robin Hemmings. Robin Hemmings has also appeared in both The Lost World and War Game, as well as the wonderful Medusa, by Olivier award-winning Adam Peck and the Olivier nominated Oi, Frog! by Pins and Needles Productions. Shaelee has worked with Bristol Old Vic; Oxford Playhouse; Theatre503; Hope Theatre; Wardrobe Theatre; ALine Art; and SoHo Playhouse (NYC). Her recent credits include the critically acclaimed This is Where We Live; Shaedates, which she co-wrote with Toby Hulse; and Closer Each Day, Bristol's cult classic improvised comedy show. Shaelee also writes and performs for Toucan, a female sketch duo who have been featured on the BBC and The Comedy Crowd.