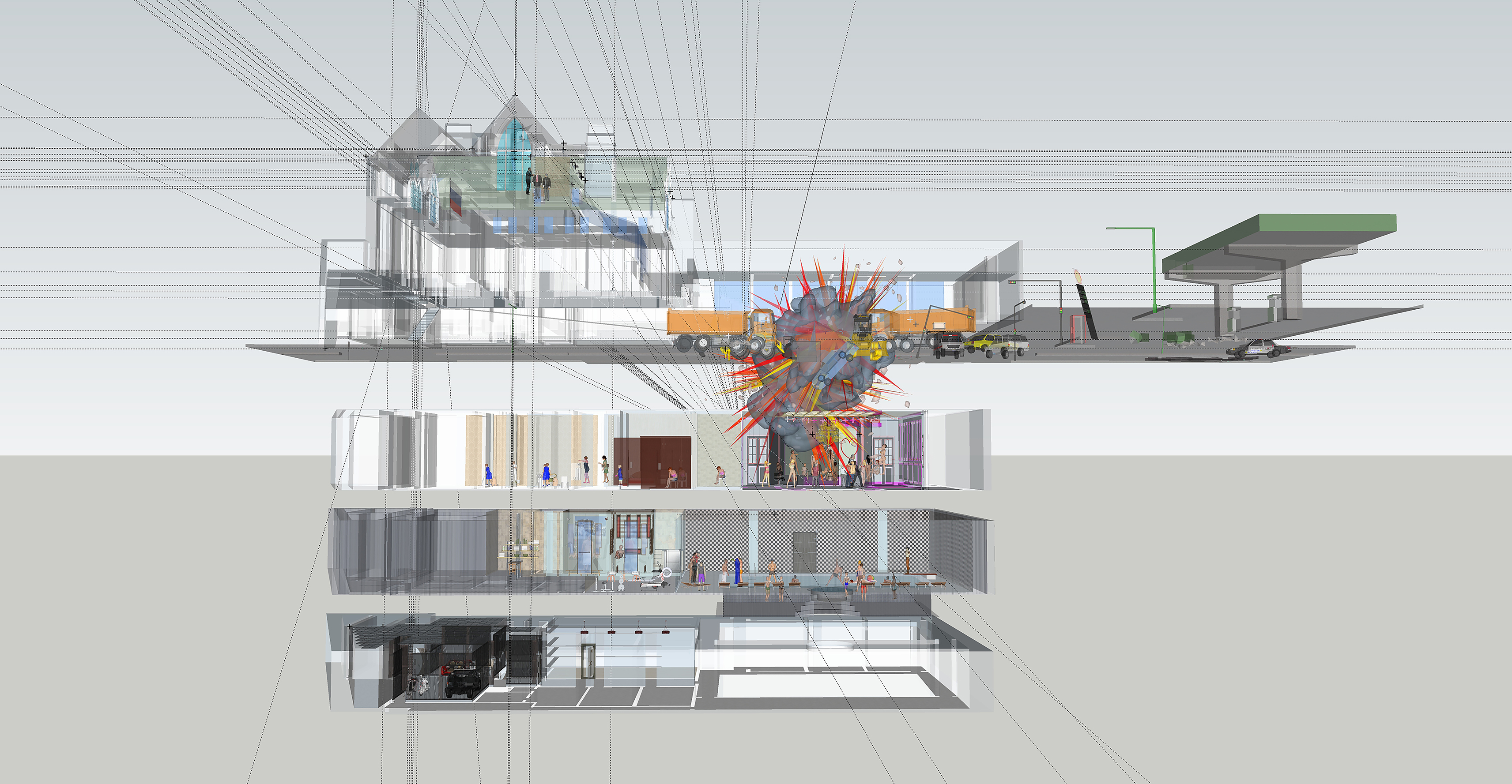 Construction Lines
A short animated film about the interior of an 'iceberg' home.
Construction Lines is a short animated film about the interior of an 'iceberg' home (a home where the sub-ground levels are larger than the house above). The iceberg home in question was not developed due to hundreds of objections from surrounding neighbours in Knightsbridge, West London.
Construction Lines shows this iceberg home rendered as a 3D model, using the original architectural plans and the software 'Sketchup'. The narrative of the film, the model of the home, and the scenes played out within it, are informed by the objections filed against the planning application, as well as online articles speculating about the lives and lifestyles of the super-rich.
In 2017 this film was awarded the Tenderflix Artist Video prize (a competition organised by the Tenderpixel gallery) and was named the winner of the Short Fiction category at the Architecture Film Festival London. It has screened at film festivals in the UK, the USA and Europe.
Born and based in London, Max Colson works predominantly with digital media and film. His work explores the intersection between architecture and landscape and considers their relationship to hidden socio-political discourses such as those relating to class, national identity, and urbanism. Recent screenings of work include: Vitrine; Werkleitz Centre for Media Art; the Royal Academy; DOK Leipzig Festival for Documentary and Animated Film; Sheffield Doc Fest; SPACE. He has had UK solo exhibitions in London at the Royal Institute of British Architects (2015) and Arebyte (2017). His short films have been the recipient of awards such as the Tenderflix Artist Video Prize (UK, 2017) and a finalist of the Lumen Prize (2019). He was selected to participate in Film London's FLAMIN Fellowship 2019/20 programme and for the SPACE Art and Technology residency 2017/18. He teaches on the MA Graphic Communication Design at Central Saint Martins and is a graduate of London College of Communication's MA Photojournalism and Documentary Photography (2013).