Watermans is an independent charity operating as a social enterprise delivering high quality arts provision for all.
We're an Arts Council England National Portfolio Organisation, and we receive funding from London Borough of Hounslow. We also rely on donations, box office and commercial income from our trading arm, and deliver many contracts for surrounding boroughs.
In 2018-19 we grew our income to just under £2m which breaks down in the following way: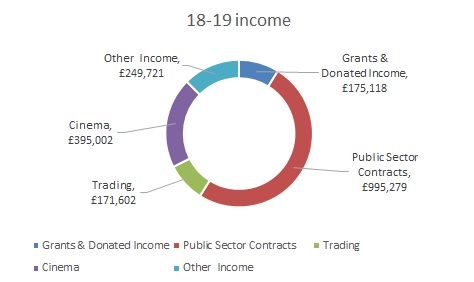 We work with a wide variety of funders and partners, including:
Arts Council England – we are a National Portfolio Organisation and also lead Creative People & Places in Hounslow, ACE's major investment in engaging new audiences in the Arts in areas of low engagement.
London Borough of Hounslow – we are awarded contracts to provide a year-round high-quality arts programme in the borough and deliver projects with outcomes for specific groups.
Hounslow Short Breaks – we run a year-round arts programme for families with a disabled child in partnership with Hounslow's Short Breaks programme.
GLA – we have delivered the outdoor arts programme at Bell Square in Hounslow Town Centre, supported by GLA
Social Investment Business – we received a major investment to develop our capacity to deliver public sector contracts via the Futurebuilders programme.
Corporate Partners – GSK, Heathrow Community Fund, Citroen and other partners have played a key role in supporting individual projects.
Schools – we work with many local schools to engage children and young people in the arts with hands on activities such as lantern making for Hounslow's Winter Lights event, or bringing them into the centre for events such as Shakespeare Schools and NT Connections.
#SaveWatermans Emergency Appeal Supporters
In December 2020, Watermans launched an emergency appeal to #SaveWatermans. This was in response to the coronavirus pandemic that has decimated the arts sector, including venues like Watermans.
The campaign raised over £100,000 in just 4 weeks through an incredible groundswell of community support. Donations raise from £1 to £1000, and we appreciate each and every one of these – if you gave, you've shown your support. And that means the world
Here, we name those that gave £150 and over, recognising your exceptional generosity that helps us get to our target to help protect Watermans' future.
Thank you.
2021 Patrons – £1000 and over
Tessa Clarke
Get Set Hire
Jenny Keohane
Andrew Ward
Sir John Weston
and two anonymous Patrons
Honorary Patron
Bénédicte Lacour
Corporate Patron
GSK
Super Star Supporter
Claire Cameron
Martin Caraher
Olive Coleman
Stephen Robert Dixon
Andrew Gordon
Richard M Jordan
Caroline Lumb
Spindrift & Luay Al Swaidi
and an anonymous Super Star Supporter
Star Supporters
The Arts Society Richmond
Lynne Babbington
Bates Wells
Malcolm Davies
Malcolm Davies
Roger Gascoigne
Christine Gratus
Lynn Grimes
Leighton Grist
Martin Hinckley
Orla Kelly
Jean-Christophe Lacour
Greg Lovett
Chris Maw
Ajay Mehta
Joyce Okenwa Macfarlane Selfsense Limited
Belinda Pethick
Richmond Film Society
David Edward Riley
Susan Rowe
Simply Signs Ltd
Myriam Singh
Ray and Linda Smith
Chris Spring
John & Tricia Springate
Stir It Up Busy Family Local Recipe Box
Juliet Thompson
Ash Verma
Alastair Walkinshaw
Carol Walsh-Knutson
Dee Ward
Gabriel weston
Linda White
Tom Woods
and several anonymous Star Supporters
For more information on funding and partners please contact Jan Lennox