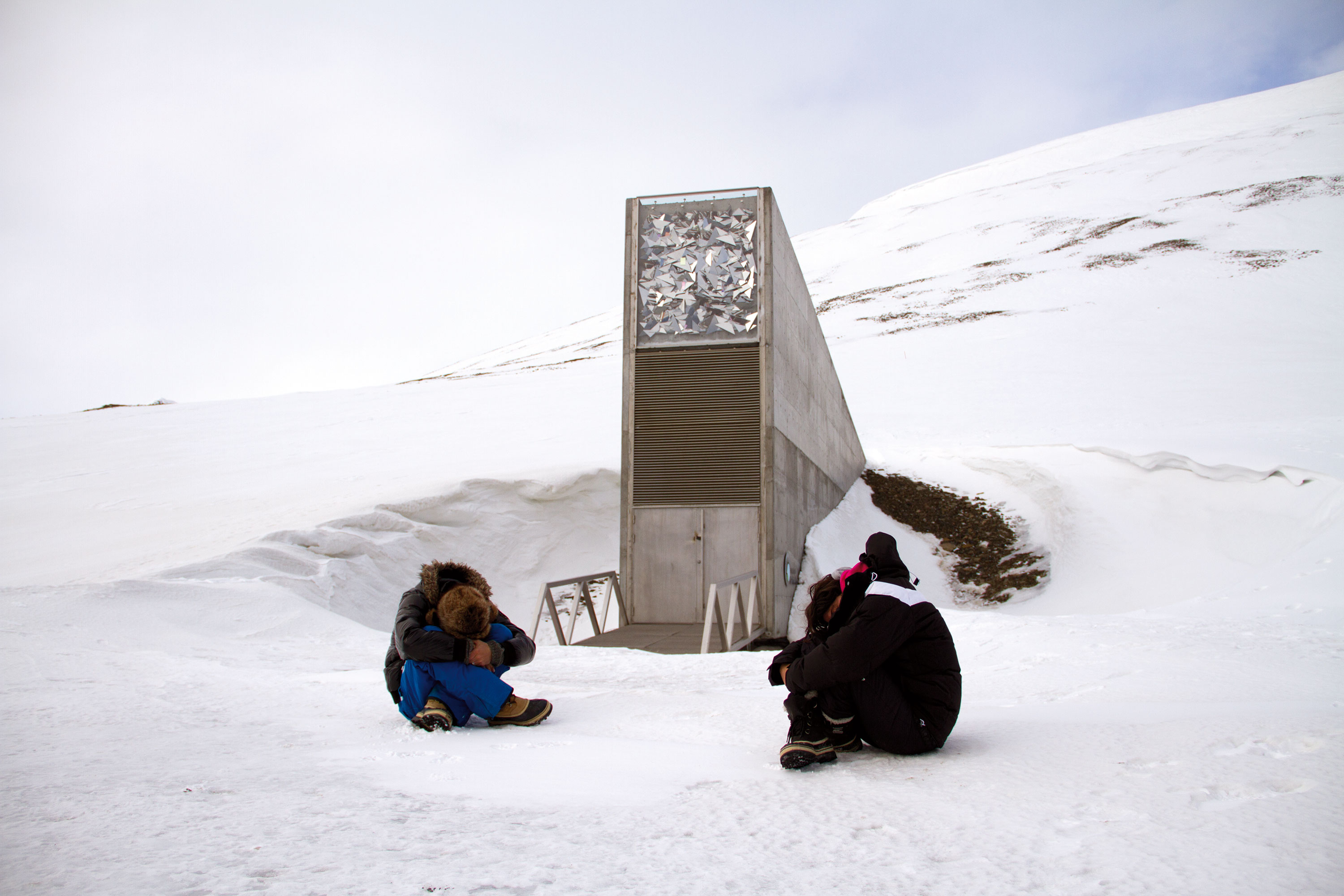 Devenir Graine (Becoming Seed)
A silent protest in front of the Svalbard Global Seed Vault
Artist: Magali Daniaux & Cédric Pigot
In May 2012 we flew to Svalbard, an archipelago which constitutes the northern part of Norway, to take a look at the Svalbard Global SEED Vault, the most pessimistic seed bank in the world. It is nuclear resilient and keeps a duplicate of all the seeds necessary for food from around the world. This survivalist initiative was financed by agribusiness stakeholders or foundations linked to the "new green revolution" as Monsanto, Syngenta, the Rockefeller Foundation, the Bill & Melinda Gates Foundation.
"Devenir graine" (in english: Becoming Seed) is an action, a silent protest shot in May 2012 in front of the Svalbard Global Seed Vault. We are both huddled, trying our best to become seed, searching eternity near this ark. The title "becoming Seed" is reminiscent of  Deleuze and Guattari's* concept of "becoming animal", considered in a contemporary vegetal perspective : active immobility and invisible resources. **
Despite all our efforts, we never entered the Vault. This place remains mysterious for us, who knows what's really in there ? We started to view Svalbard as the giant back-up of a bio-centered humankind, evolving in made-to-measure environments. The fridge world, a pledge of death and eternity.
* Gilles Deleuze & Felix Gattari 1980. A Thousand Plateaus. Trans. Brian Massumi. London and New York: Continuum, 2004. Vol. 2 of Capitalism and Schizophrenia. 2 vols. 1972-1980. Trans. of Mille Plateaux. Paris: Les Editions de Minuit.
** Francis Hallé, Éloge de la plante, Pour une nouvelle biologie, éd. Seuil, octobre 1999.
Magali Daniaux & Cédric Pigot
Since we met in 2001, our joint work bears the dual hallmark of experimentation and performance. Our pieces bring together various media, associating elements from opposite ranges, with a taste for connections between Sci-Fi and documentary forms, high-tech engineering and fantasy tales, heavyweight materials and fleeting sensations. Starting with installations and objects, our work soon included experimental actions and more immaterial artistic gestures. Videos, sound art, music, poetry, olfactive research, virtual works bordering the digital arts have formed, over the past years, a cycle of works dealing with climate change, economic, political and geo-strategic issues, urban development and food management. Later, in Alaska we have developed land art projects dealing with time, archaeology, geology and climate change. We are currently working on artificial intelligence together with Guillaume Dumas, Director of the Precision Psychiatry & Social Physiology laboratoryFRQS J1 and Researcher in Artificial intelligence and Digital Health. In parallel to our art practice we have founded UV Éditions, a publishing house focused on essays that concern Information Theory, Media Critic, Philosophy of the Technics, Anthropology of the Medias, queer Theory and Cultural Studies, Animalism and Cinema.
Our work was shown in leading institutions and festivals : at Narcissio in Nice, France, 2020,  at Transpalette in Bourges, France, 2019, at Biennale Némo in Paris, 2019, at Terminal B, à Kirkenes in Norway, 2017, at Cosmoscow in Moscow, 2017, at festival acce)s( in Pau, 2016, at Musée du Jeu de Paume in Paris, 2014, at Venice Biennale of architecture, 2014, at Ultima Festival, Oslo Opera, 2011, at Palais de Tokyo in Paris, 2011, at Qui Vive International Biennial in Moscou, 2010, at Dashanzi Art Festival in Beijing, China, 2004.