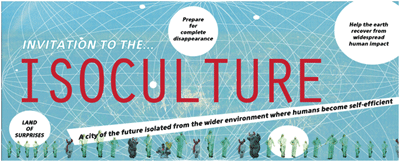 Design an ISOCULTURE (2013)
Michael Burton & Michiko Nitta
Gallery
6 March – 26 May
Daily 12noon -9pm
Imagine a city of the future isolated from the wider environment where humans have become self-sufficient. Food, energy, medicine is all derived from human origin and man-made biological systems. Outside of the Isoculture city the environment has become a 'no-go' land to help it recover from widespread human impact. In terms of their impact on the planet, humans have disappeared.
Watermans is pleased to present ISOCULTURE by Michael Burton and Michiko Nitta, our major gallery project for 2013 that redesigns the city as a closed system where humans are entirely self-sustaining.
Read an interview with the artists in Imperica here
Dates: 6 March – 26 May 2013
Take Part
Hounslow Community Brass Band
24 Sep
Are you fumbling with your French horn? Terrified of your tuba? Feeling useless at your euphonium? Or craving to learn […]
Take Part
Hounslow Community Choir
26 Sep
THIS EVENT TAKES PLACE AT HOUNSLOW MUSIC SERVICE Is singing a talent you think you could share with enthusiastic people […]
New Media Arts
Rivers of The World
22 Sep - 02 Oct
An exceptional exhibition of river-inspired artwork created by children and young people around the world working in collaboration with professional […]