A Spectrum of Dance and Shakespeare's Deaths
A chance to see gripping Pina Bausch, the life of Jacqueline Du Pre and rebel ice skaters from Montreal.
A chance this week to see a gripping work from the legendary dancer and choreographer Pina Bausch, for free. On a completely different note, discover the rebels of the ice skating world from Montreal with a short film that is nothing to do the usual idea of dancing on ice. Also rebellious in a sense is Spymonkey's The Complete Deaths. There are 74 onstage deaths in the works of William Shakespeare – 75 if you count the black ill-favoured fly killed in Titus Andronicus – and in this smash hit show, Spymonkey perform them all.
Spymonkey: The Complete Deaths
Streaming from Sunday 31 May for 3 weeks. Free. Age 12+.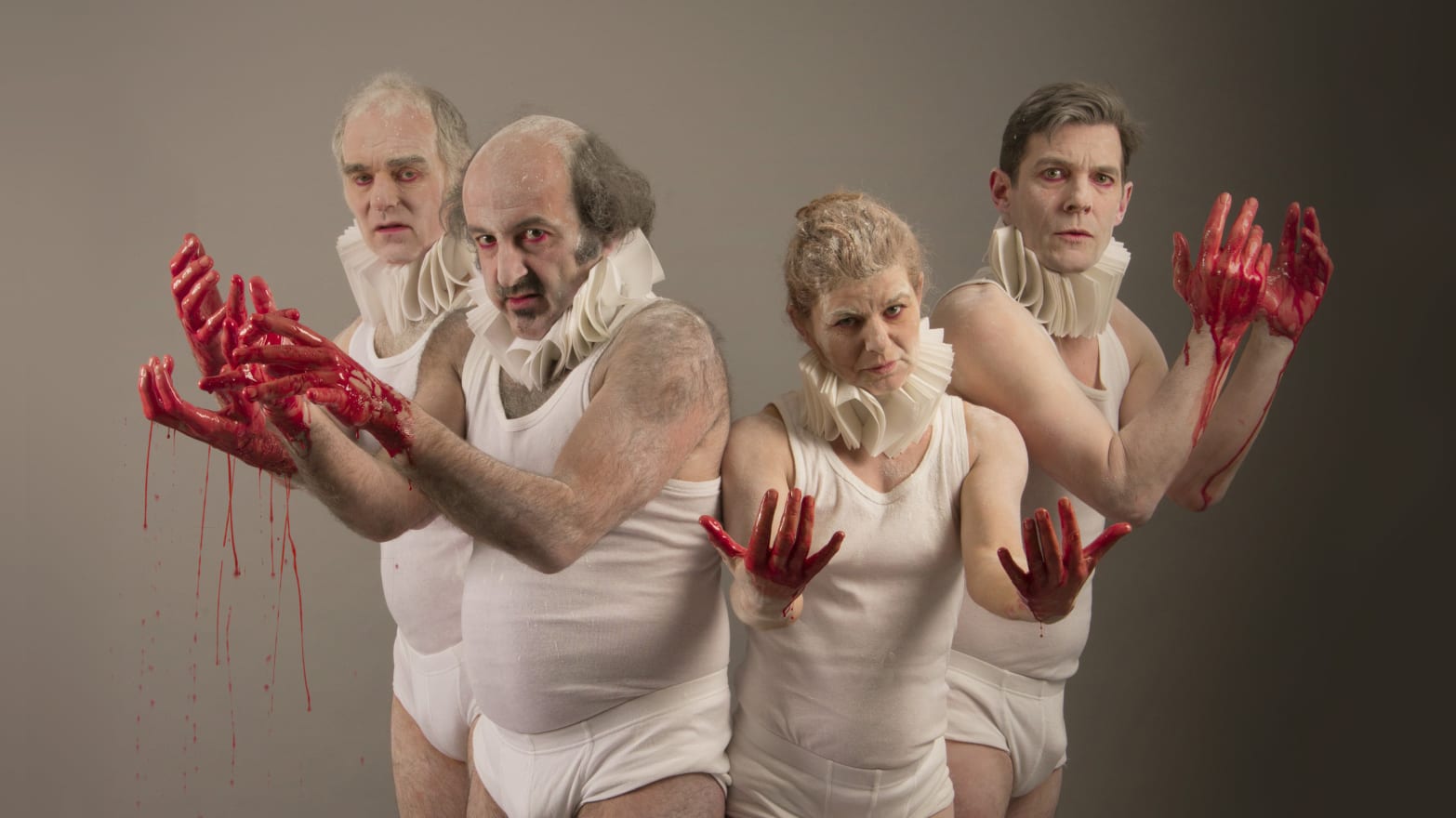 Tim Crouch and Spymonkey's The Complete Deaths
Let's start with Shakespeare – but not as you know it! There are 75 onstage deaths in Shakespeare's plays and this show covers them all! Described by The Observer as 'A fabulous bloodbath', Spymonkey bring their trademark intelligence and emotion to this fast-paced physical comedy theatre.
A tour de force
★★★★★ "A tour de force" Financial Times
The four contemporary clowns, directed by Tim Crouch, take on the countless stabbings, poisonings, severed heads, the odd smothering, and the carnage at the end of Hamlet in a show that received endless 5* reviews and has toured the world.
Tanztheater Wuppertal Pina Bausch: Palermo Palermo
Streaming now. Free. 2 hours 20 mins.
Striking contemporary dance from contemporary dance legend, Pina Bausch. The show, Palermo Palermo, was inspired by the choreographer's trip to Sicily. It was filmed in 1989 and has recently been digitally restored and is currently made available to watch free by the Pina Bausch Foundation. This is gripping from the start – and a rare chance to see full-length Pina Bausch shows for free!
Cathy Marston's first work for the Royal Opera House Main Stage is a lyrical memoir of the momentous life of the cellist Jacqueline du Pré, from her discovery of the cello through her celebrity as one of the most extraordinary players of the instrument to her frustration and struggle with multiple sclerosis. Rich and poignant, joyous and tragic, The Cellist draws on the talents of The Royal Ballet's Principals, Character Artists, Soloists and Corps to tell the moving story of the cellist's life.
Funny and cliff-hangingly suspenseful.
★★★★★ Daily Telegraph
Watch the trailer for James Graham's (Quiz, ITV) much-loved production of This House, which enjoyed two sold-out runs at the National Theatre and a West End run. It's 1974, and Britain has a hung Parliament. The corridors of Westminster ring with the sound of infighting and backstabbing as the political parties battle to change the future of the nation.